Last Updated on July 23, 2023
This essential 4 days in Lisbon itinerary will cover everything you need to know for the perfect trip!
Lisbon is Portugal's hilly, coastal capital. One of the oldest cities in western Europe, it's an exciting spot to spend a weekend taking in the local sights.
With lots of museums that cover Portugal's history and culture, plenty of fantastic restaurants, and beautiful neighbourhoods to explore, there's something for everyone in Lisbon. 
I recently went to Lisbon for the third time, to spend a long weekend exploring the city. Read on to learn the history of Lisbon, things to do in Lisbon, my personal recommendations for spending 4 days in Lisbon, and more!
* Please note that I am not local to Lisbon. This guide is based on my personal experiences as a visitor traveling the region. As with all travel, I recommend connecting with locals, either casually or by hiring local guides, to learn more about Lisbon from the perspective of those who live there.
Brief History of Lisbon
As early as 700 BC, Lisbon was settled by the Celts, and then founded by the Phoenicians who established a settlement called Ulissipo. This settlement was later conquered by the Greeks and Carthaginians.
The Lisbon area eventually joined the Roman Empire, before spending nearly 500 years under Muslim rule.
Lisbon, which translates to "safe harbor" in ancient Phonecian, is probably most famous for its maritime exploration during the Portuguese Age of Discovery. The city's World Heritage Site, the Monastery of the Hieronymites and the Belém Tower, were in fact built to honor navigator Vasco da Gama's travels to India.
On November 1, 1755, a massive earthquake (sometimes called the Great Earthquake) hit Lisbon, followed by tsunami and fires that caused almost the complete destruction of the city. 
The earthquake still ranks as one of the most destructive in recorded history. Following this disaster, Lisbon rebuilt itself while going through two centuries of mostly foreign control. 
During World War II Lisbon became a point of departure to North America for people who were trying to escape the fascist governments of Europe. Today, Lisbon is Portugal's seat of government as well as the political center of the country.
My 4 Days in Lisbon
My visit to Lisbon came after spending a couple days in the northern city of Porto, as well as the nearby municipality of Sintra. It was the perfect city to spend a long weekend in before driving south to explore Portugal's Algarve region. 
This was actually my third time in Lisbon. The first time I visited was in 2013, when I traveled through Portugal as one of the last countries on a months-long backpacking trip of Europe.
By the time I arrived in Lisbon, my budget was running out fast, and so I stayed in low cost hostels and didn't have much money to spend on activities, museums, and meals out.
My second visit to Lisbon was in 2017. I ended up in Lisbon thanks to a layover with their airline, TAP Portugal. The airline allowed me to extend my layover, so I spent 48 hours exploring the city.
The problem? This time I was also at the end of a months-long trip, and so yet again, my budget was running out. 
When it came time for my third trip to Lisbon, I was super excited to return to Lisbon because I knew that on this visit I wouldn't have to be so budget conscious. This time around, I was ready to see all the museums, eat all the delicious foods, and do some shopping. 
I arrived in Lisbon on an early Friday morning and met my friend, who'd just arrived from Canada to join me on my trip, in a small, quiet square (praça). We sipped coffees and enjoyed sandwiches before checking into our Airbnb and heading out to explore the city!
How to Get to Lisbon, Portugal
The main ways to get to Lisbon are by flight, train, bus, or car.
Getting to Lisbon by flight
Lisbon's international airport, called Humberto Delgado Airport, is just 7 km from the center of the city. Take the 'Aeroporto – Saldanha' line from the airport's metro (subway) station to get to the center of Lisbon in 20 minutes.
Getting to Lisbon by train
It is just as easy to get to Lisbon by train. National and international trains arrive every day at Santa Apolónia station, which is very close to all the popular neighborhoods of the city.
Getting to Lisbon by bus
Buses from other regions of Portugal as well as other countries regularly connect to Lisbon. Sete Rios is the major bus station in Lisbon and also the main hub for Rede Expressos, Portugal's main coach bus network.
Getting to Lisbon by car
To drive into Lisbon, take the A1 or A2. Both routes connect to Lisbon from other regions of Portugal and other countries, too.
How Long to Spend in Lisbon
To really get to know Lisbon stay at least 3 days, although 4 or 5 days is ideal. With a longer stay, you'll be able to see all of Lisbon's most famous spots, and also fit in a day trip to nearby Cascais or Sintra.  
I spent 4 days in Lisbon on this trip because I had visited the city before, and I had already spent 2 nights in Sintra. Given this, 4 days in Lisbon was the perfect amount of time.
My friend and I were able to have a pretty leisurely schedule, and we walked all over the city rather than relying on cabs or public transport to speed up my itinerary. 
If it's your first trip to Lisbon, I'd spend at least 4 days so that you can spend quality time exploring the city without feeling too rushed. If you can spend longer… go for it!
Where to Stay in Lisbon
Lisbon has plenty of accommodations available across its different neighborhoods, and they range in price from budget stays, like hostels, to Airbnb's and hotels which can get a little pricier. The most important thing to figure out is which neighborhood you'd like to stay in.
A Summary of Lisbon's Neighborhoods
This summary covers the main neighbourhoods that tourists tend to stay in whether they are spending 4 days in Lisbon or more. These neighborhoods all have something special about them, and they all have the key amenities you might need for your stay, like Lisbon supermarkets.
Baixa and Rossio
Between the neighborhoods Baixa (pronounced "baisha") and Rossio is considered the "downtown" of Lisbon. You'll find in this area many of Lisbon's main sites, which makes it a convenient spot to stay if you'd like to mostly walk everywhere.
In Baixa and Rossio you'll find historic squares, Lisbon's famous old street lifts, museums, tons of shops, cafés and restaurants. Just note that this part of the city is quite busy!
Chiado and Bairro Alto
Chiado and Bairro Alto are two adjacent neighborhoods that are "up the hill" in Lisbon. These neighborhoods are a short walk from downtown Lisbon.
Chiado is known for its antique shops, cafés, bookshops, boutiques, and bohemian feel. Bairro Alto, which is within walking distance, is considered the center of Lisbon's nightlife.
Chiado is a lovely neighborhood to stay in because it's within walking distance to all the main sites of Lisbon. If you're wanting to enjoy the nightlife in Bairro Alto, rather than staying in that neighborhood, I recommend staying in Chiado so you're close by but in a quiet area. Barrio Alto can be noisy at night! 
Alfama
Alfama is one of Lisbon's oldest neighborhoods. It's known for its steep streets, traditional restaurants, cafes, and cozy shops. This is also the neighborhood where you'll find the famous no. 28 tram that carries passengers up the steep hills of Alfama to the São Jorge Castle.
Alfama is one of my favorite neighborhoods in Lisbon because you can wander all around without ever getting bored. It's a great neighborhood to stay in because it's central in the city, and there are plenty of restaurants in the area. 
Alcântara
Alcântara is a western neighborhood in Lisbon that in recent years has grown to be a popular spot for nightlife, but the area also has a great arts and culture scene. There you'll find waterfront restaurants and clubs, many of them in old converted warehouses.
The LX Factory in Alcântara dates back to 1846, when it was a manufacturing plant. Now, it's been converted into a hub for small businesses and artists. This neighborhood is a 30 minute bus ride or an hour long walk from the center of Lisbon.
This makes it a more affordable neighborhood to stay in, and gives you an opportunity to explore a lesser known area of the city!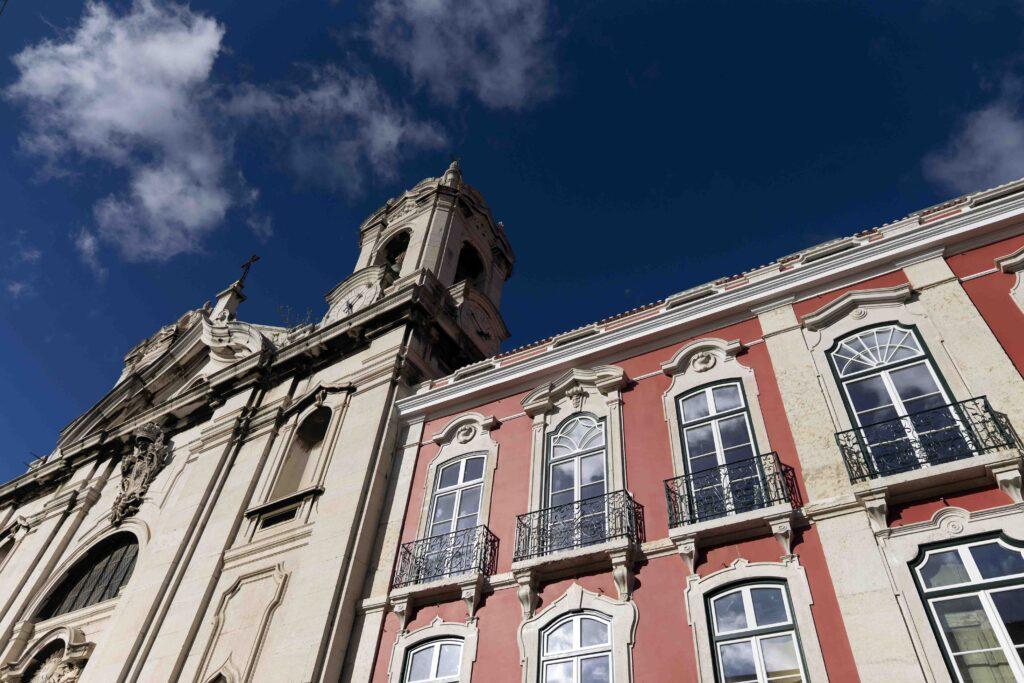 Graça and São Vicente
These adjacent neighborhoods are in the east end of Lisbon, just past Alfama. Here you'll find quiet neighborhoods, cafes, and monuments like the S. Vicente Church and the National Pantheon.
Graça and São Vicente are quiet, and because they are further out from the city center (a 20 minute bus ride), they're a more affordable area of Lisbon to stay in.  
How to Get Around Lisbon
The best way to get around while spending 4 days in Lisbon is by walking, or by public transport. Most of Lisbon's main sites are within walking distance, just be prepared for the city's hills, walking them can be a workout.
When you need a break from walking, you can use Lisbon's buses, trams, metro and elevators.
The fares for Lisbon's public transport range from 1.50 euros for a single fare to 5 euros per fare, depending on what type of transport you're taking. It's possible to buy day and weekend passes.
You can also purchase a Lisboa Card, which gives you discounts and free entry to several Lisbon attractions, as well as free use of all public transportation in the city!
Is the Lisboa Card worth it?
The Lisboa Card is worth it if you're planning to visit the sites that the card provides free or discounted access to, and if you plan to use Lisbon's public transport. There are three options when purchasing a Lisboa Card: a 24hr, 48hr, or 72hr card. The prices of the cards range from 20 euro and up.
Where can you get a Lisboa Card?
There are 3 places in Lisbon where you can get a Lisboa Card.
Humberto Delgado Airport – Lisbon Airport.
The Lisboa Welcome Center, which is the main tourist office at the Comércio Plaza.
Foz Palace, in the tourist office next to Rossio train station.
The Lisboa Card has a lot of value! If you use it the right way, you'll get more than your money's worth out of it. The key is to plan how you use it. For example, if you get a 24hr Lisboa Card, plan to see the sites that have entry fees, like museums, Jerónimos Monastery, and Belém Tower.
Visit Lisboa gifted me a Lisboa Card when I visited the city, and I got a lot of use out of it! What I liked most was that I could hop on public transport whenever I felt like it, which was super convenient.
Things to Do in Lisbon
To help you plan your 4 days in Lisbon, I'm walking you through the main things to see and do in the city. The below list covers Lisbon activities, museums, palaces, churches, and more!
Free Lisbon walking tours
I love doing a free walking tour on the first day I am in a new city. They are a great way to learn some history, see landmarks, and to hear recommendations for things to do, restaurants and more.
They also help with getting you oriented with navigating the city! Lisbon actually has several free walking tours run by various companies. 
A notable one is Take Lisboa, because their walking tours focus on moving away from mass tourism experiences. They run a 2.5 hour tour focused on Lisbon's center that goes three times per day in English and Spanish.
Tours of Lisbon's center start at 10:30am, 11:00am, and 14:00pm, and the meeting point is just in front of the Tourism Office at Palácio Foz. They also offer walking tours focused on Alfama and Sintra. For information head to their website.
Praça do Comércio
The Praça do Comércio is a large plaza that faces Lisbon's harbour, and a must see when spending 4 days in Lisbon. The plaza was built on the site where the old Royal Palace existed before it was destroyed by the massive earthquake in 1755. It's actually one of the largest plazas in Portugal, with an area of 175m by 175m, or 30,600m².
The southern end of the plaza looks directly out onto the Tagus river, while the other three sides of the plaza are lined with buildings. Way back when the square was first built, commercial ships would unload goods onto this square so that they could be distributed into Lisbon.
In the center of the plaza you'll notice the bronze equestrian statue of Joseph I of Portugal (1750 – 1777), who was King of Portugal when the Great Earthquake hit. The statue was designed by Machado de Castro in 1775. On the north side of Praça do Comércio is the Arco da Rua Augusta.
Arco da Rua Augusta
The Rua Augusta Arch was officially completed in 1875, to commemorate Lisbon's recovery from the destruction of the Great Earthquake. The arch is beautiful to look at from street level, but it's also possible to visit inside it.
You can ride an elevator to a stone floored room just below the top where you can see the Rua Augusta Arch Clock (built in Portugal in 1941). From there, take a winding staircase to the open air top of the arch, where you're treated to views of Lisbon in every direction.
Cais das Colunas
Cais das Colunas is a pier that is part of Praça do Comércio, in the historical center of Lisbon. It has a set of marble steps which used to be used as the noble entrance into the city. Heads of state and other prominent figures arrived by boat, going up the steps to enter isbon
The pier was named after the two columns (colunas) that are on either side of the main steps. The pillars were designed by architect Eugénio dos Santos and were part of Lisbon's reconstruction plan after the 1755 earthquake.
Elevador da Bica
The Elevador da Bica is a funicular, which is a railway that runs on the side of a hill or a mountain. The railway's cars are attached to a cable, which rely on tension to pull the car uphill. A second car runs in the opposite direction at the same time, which counterbalances the weight.
Elevador da Bica opened in June 1892. It was created by Raoul Mesnier du Ponsard, a Portuguese engineer. The lift connects Rua de São Paulo in the lower Cais do Sodré neighborhood of Lisbon with the hillside neighborhoods. The lower entrance for Elevador da Bica is at Rua de São Paulo 234.
Carmo Convent
When the Great Earthquake hit Lisbon in 1755, the city was destroyed. Carmo Convent is one of the few buildings that managed to somewhat survive. Originally built in the 14th century, Carmo Convent was originally a gothic church. Today, you can see the beautiful skeleton of the church, which still has tall archways, an open courtyard, and other ruins. Attached is an archaeological museum.
Santa Justa Lift
Santa Justa Lift, also sometimes called Carmo Lift, is an outdoor, Gothic style iron elevator in the center of Lisbon. The lift was completed in 1902, built by Portuguese engineer Raoul Mesnier du Ponsard.
It's one of four mid-twentieth century lifts that are still used in Lisbon, but is unique because it's the only one that runs fully vertical.
Santa Justa Lift is an easy way to get from Baixa's lower roads to the higher roads of Largo do Carmo. Rather than climb hills and steps, a quick ride up the lift will bring you a total of seven stories (45 meters) up. Inside the lift you can admire its Gothic design, and when you reach the top you'll have beautiful views of the city.
Pink Street
Lisbon's Pink Street (which is actually Rua Nova do Carvalho) is in the popular neighborhood Cais do Sodre. The street is painted entirely pink, which makes for a fun photo opp.
The painting started in 2011 and was finished by 2013. It was painted pink in an effort to gentrify the street, which was actually known to be a red light district in earlier years.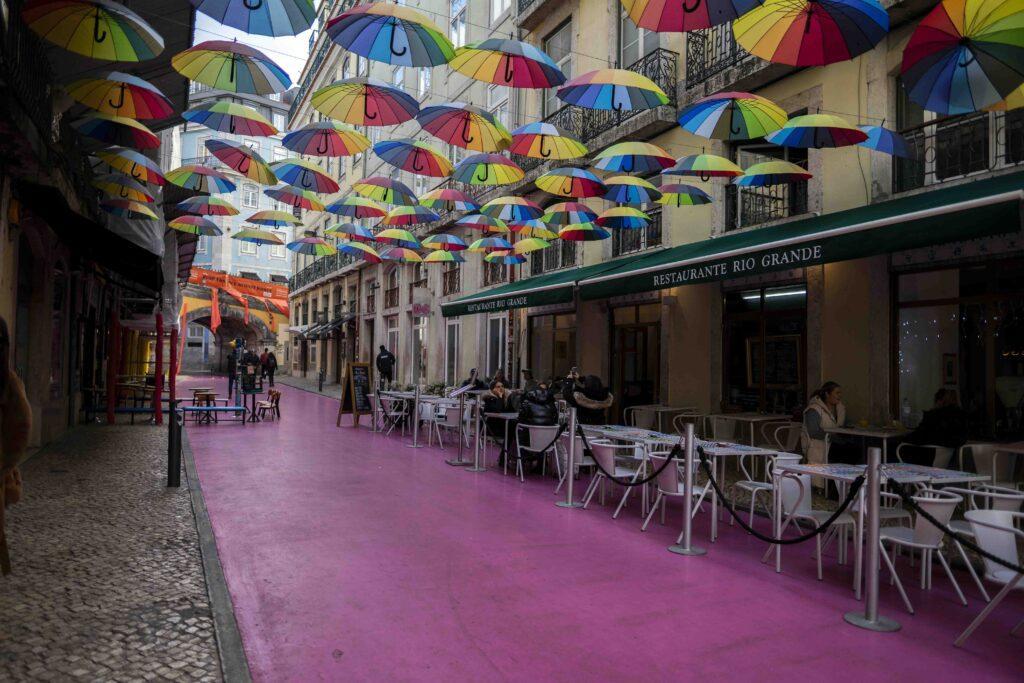 Lisbon Cathedral
Lisbon Cathedral is also known as the Cathedral of Saint Mary, or simply the Sé (Sé de Lisboa). It is a Roman Catholic cathedral in Alfama, and the oldest church in the city. It's lovely to look at from the outside, but you can also step inside for free (donations are accepted, too).
Miradouro de Santa Luzia
Miradouro is Portuguese for "viewpoint." They are found all over Lisbon, and typically are a nice terrace where people can easily sit and rest, while taking in beautiful views.
Miradouro de Santa Luzia is one of the most popular viewpoints, so it's a good one to see while spending 4 days in Lisbon. It's right by the church of Santa Luzia in Alfama, and from the terrace you have sweeping views over Alfama's houses, churches, and the Tagus River.
Santa Clara Flea Market
This flea market, also known as Feira da Ladra, is held every Tuesday and Saturday in Campo de Santa Clara, behind the monastery of São Vicente de Fora. The market dates back to 1272 and was held in various parts of the city before settling permanently in its current spot.
It's always been known as a market that sells used items, so you'll find lots of interesting things including antiques. Nowadays, vendors also sell their artistic work in the market. 
São Jorge Castle
São Jorge Castle is high up on a hill, on the site of a former Moorish castle that dates back to the 10th century. The original castle was conquered in 1147 by the crusaders led by Dom Afonso Henriques, the founder and first king to call himself "King of Portugal."
Most of the castle was destroyed over the years, especially by the Great Earthquake. When visiting, you're able to see some surviving castle walls, as well as some towers that were restored in the 20th century.
You can climb up some of the towers, which provide great views of Lisbon. You can also walk through the castle's gardens.
Museu Nacional do Azulejo
This museum is a must-see if you're interested in the history and design of ceramic tiles in Portugal. Portugal is known for its ceramics, in fact, you'll see glazed blue ceramic tiles or azulejos everywhere!
These tiles date as far back as the 13th century when the Moors invaded the land that now belongs to Spain and Portugal. The word azulejo comes from Arabic roots, translating to 'small polished stone'. 
This specialty museum is home to a wonderful collection of decorative tiles dating from the 15th century to the present. As you admire the tiles, you'll learn about their history and the tradition of tile art in Portugal. The museum even includes modern day art that incorporates this tradition.
LX Factory
Back in 1846, a fabric production plant called Companhia de Fiação e Tecidos Lisbonenses was built in the neighborhood Alcântara. The massive industrial complex was an important manufacturing site for decades.
But 50 years later, the company decided to move. Over the years, various companies and businesses tried to make good use of the site, but it eventually became abandoned. 
In recent years, a private investor took on the challenge of creating something new out of the historical site. It became home to more than 200 businesses ranging from cafés, restaurants, show rooms, shops, offices, commercial spaces.
You can spend hours wandering through the markets, and be sure to stop to sample beers or have a meal. 
Jerónimos Monastery
Jeronimos Monastery is considered one of the most impressive symbols of Portugal's power and wealth during the Age of Discovery. It was built in 1502, and became home to monks of the Order of Saint Jerome (Hieronymites).
Their job was to give guidance to sailors and pray for the souls of Portugal's royalty. Today, the monastery is open to visitors, and it's a UNESCO World Heritage Monument.
You can wander the monastery, admiring it's facades, the church and the cloisters, which are done in the Portuguese Late Gothic Manueline style.
Igreja de Santa Maria de Belém
Igreja de Santa Maria de Belém was completed in 1601 after a century of building. It's a beautiful church, connected to Jeronimos Monastery. Its architecture is known as the Portuguese Late Gothic Manueline, and it's a UNESCO World Heritage Site.
Palácio Nacional da Ajuda
Palácio Nacional da Ajuda is a neoclassical palace that was built in the first half of the 19th century. It became a residence for the Portuguese royal family when D. Luís I (1838-1889) became king and married an Italian princess, D. Maria Pia of Savoy (1847-1911).
The palace is a nice example of typical 19th century royal residences. While touring it, you'll see original gold and silverware, paintings, tapestries, sculptures, furniture, and more. 
Belém Tower
Belém Tower (Torre de Belém) was built between 1514-1520 as a medieval defensive tower on the northern bank of the River Tagus. It originally defended the city, served as a point of embarking and returning for Portuguese explorers, and was a ceremonial gateway into Lisbon.
Today, it's a symbol of Europe's Age of Discovery. You can visit inside this UNESCO World Heritage Site, or simply admire it from outside.  
Lisbon Beer District
Lisbon Beer District is a small area in the neighborhood Marvila that has several craft breweries, art galleries, and restaurants. Three brewery owners Bruno Carrilho of Musa, António Carriço of Lince, and Susana Cascais and Scott Stephens of Dois Corvos came together to create a concentrated area of Lisbon dedicated to delicious beer. The district is just off of Rua do Açúcar in Marvila, east of the city center.
What to Eat in Lisbon
You can't spend 4 days in Lisbon without tasting some classic Portuguese dishes. Below are a couple must-try foods.
Sardines
In Lisbon and other Portuguese cities you'll notice entire shops that specialize only in sardines! This is because sardines (sardinhas) are a staple across Portugal.
While the sardine shops tend to be for tourists, you can order them the classic way, either with bread or as they are on a plate. In Lisbon, the best time to have sardines is throughout summer and early fall, when they are in season and fresh. 
Pastéis de nata
Pastéis de nata are Portuguese custard tarts made of puff pastry that's filled with egg custard. Often, they are served a dusting of powdered sugar or cinnamon.
This popular pastry originally comes from the Jerónimos Monastery, just outside Lisbon. Apparently, back in the 18th century monks in the monastery used leftover egg yolks to make pastéis de nata! 
Caldo verde
Caldo verde is a popular soup across Portugal. It's typically made of kale and sausage, although sometimes you'll find caldo verde that includes collard greens or cabbage instead of kale. It shouldn't be hard to find caldo verde while in Lisbon because it's on the menu of most restaurants!
Piri piri chicken
Piri piri chicken is a popular dish across Portugal. It's usually chicken that's been grilled and charred and covered in a chili based sauce. The sauce will usually use African Bird's Eye Chili which is grown in northern Africa and southern Portugal. Often, piri piri chicken comes with chips (fries), salad, or rice.
Bifana sandwiches
Bifanas are traditional Portuguese sandwiches! They are made with thin slices of pork that are marinated and simmered in a sauce of white wine, garlic, and paprika. The sandwich is then served on a bread roll along with mustard and piri piri sauce. O Trevo and Casa das Bifanas are two popular spots in Lisbon to try a bifana.
Bacalhau
Bacalhau is the Portuguese word for codfish. Cod is prepared in a couple different ways throughout Portugal, but a common way is that it's dried and salted. This preserves the fish so that it can be easily stored.
You'll find bacalhau on most menus in Lisbon, prepared in different ways. A popular cod dish is bacalhau à brás, which sautés shredded cod with onion, garlic, bay leaves and olive oil. Then potatoes and eggs are added, and the dish is finished with some final garnishes. 
Ginjinha
Ginjinha isn't a meal, it's a liqueur, but it has to be mentioned because it's rumored to have been invented in Lisbon! It's infused with sour ginja berries, and then the tart flavor from the berries is balanced out with added ingredients like sugar.
You'll find ginjinha in most bars and restaurants across Lisbon, but you'll also notice small stands on the streets where it's available for purchase. 
4 Days in Lisbon Itinerary
Need some help deciding on how to spend 4 days in Lisbon? Here's a breakdown of a 3 day Lisbon Itinerary that I would suggest.
Day 1 in Lisbon: Explore the centre of the city.
Walk around Praça do Comércio and go up to the top of the Rua Augusta Arch for beautiful views. From there, wander through the streets of Baixo-Chiado, stopping at Manteigaria to try their famous pastéis de nata.
Take the Santa Justa Lift from Baixa to Barrio Alto. When you reach the top, spend an hour or two visiting Carmo Convent.
Head west into the core of Barrio Alto, and wander the neighborhood's cobblestone streets. Head a little further west to the famous Bica Elevador. Take the cable car down to the bottom station.
Walk to Time Out Market Lisboa. This vibrant market is the perfect spot to try a couple different foods. Before the sun goes down, be sure to stop by Pink Street for a fun photo.
In the evening? Head back to Barrio Alto to have drinks, or go to Tasca do Chico to listen to live fado music.  
Day 2 in Lisbon: Explore Alfama and more.
Board the famous Tram 28 to take you into Alfama. The tram is very busy with tourists, especially in summer, so if you prefer, simply see the tram from the street and walk instead.
Stop at Lisbon Cathedral, better known as Sé de Lisboa, the oldest and most important church in the city. Entry is free, but donations are appreciated.
Head to the small, but renowned Fado Museum where you can learn about this musical tradition. After your visit, walk up to Miradouro de Santa Luzia for beautiful views of the city and Tagus River.
Climb uphill through Alfama's winding streets to Castelo de São Jorge. Entry to the castle is a few euros, and inside you'll have nice views of the city and get to walk along the old castle walls, see old cannons on display, and more.
Walk further east to the National Tile Museum. Spend a few hours discovering the history and tradition of azulejo tiles, which are seen all over Portugal.
Walk back into the heart of Alfama to spend your evening enjoying food and wine at a local restaurant.
Day 3 in Lisbon: Head west toward Belém.
Take the tram or a bus west to LX Factory. Spend an hour or two exploring the open air market. From there, grab the tram or bus westward again.
Hop off to visit Pastéis de Belém, one of Lisbon's most famous pastéis bakeries. After you've had your fill of sweets, walk to Igreja Santa Maria de Belém.
Walk to Mosteiro dos Jerónimos. This old monastery is one of the most celebrated historic monuments in Portugal.
Walk or bus north to Palácio Nacional da Ajuda to visit the 19th-century residence of the royal family, which is now a museum.
Head to Belém Tower (Tower of Saint Vincent) in the late afternoon. Visit inside the tower or simply admire from outside. This is the perfect spot to watch the sun set! Take the tram or bus back to the city center for dinner.
Day 4 in Lisbon: Go on a day trip to Sintra or Cascais.
On day 4 in Lisbon you'll have time to fit in a day trip to a nearby region. Sintra and Cascais are both easy day trips that will expose you to more of Portugal's culture and nature,
Day Trip to Sintra
Sintra is a municipality of Portugal, just outside of Lisbon. Sintra is a gorgeous region of Portugal where you can see magical palaces, castles, and gardens, as well as learn the history of a unique Portuguese municipality.
Because it's a quick one hour train trip from Lisbon, many people opt to spend 24 hours in Sintra. You can accomplish alot with one day, but if you have the time, I do recommend spending 2 days in Sintra so you can see more!
How to get to Sintra from Lisbon?
The easiest way to get to Sintra from Lisbon is by local suburban train. The train is affordable, efficient, and comfortable, and it runs every 30 minutes on weekdays and weekends from Rossio Station, which is in the center of Lisbon. The trip takes 40 minutes each way, and costs less than 5 euro return. The train drops you off in the center of Sintra, at Sintra Train Station.
It's also possible to visit Sintra by tour. Tours run daily from Lisbon and are about 8 hours long. It's definitely possible to visit Sintra in one day, but if you can spend longer, I recommend doing so because there's a lot to see there!
Day Trip to Cascais From Lisbon
Cascais is a beachside town that's just a short train ride from Lisbon, Portugal. Considered a resort town, there you'll find ornate mansions, museums, beautiful parks, and of course beaches along the coast.
The thing to do in Cascais is ride a bike! There are even bikes available for free during the summer months, just know that they get scooped up quickly in the morning. Free bikes called bicas are available for a day just outside Cascais train station on the left side. Alternatively, you can rent bikes near the marina.
How to get to Cascais from Lisbon?
The easiest way to get to Cascais is by public transport. The commuter train from Lisbon to Cascais takes 40 minutes, and leaves approximately every 20 minutes from Cais do Sodre station. A return trip costs around 5 euro.
Responsible Tourism Tips for Visiting Lisbon
Responsible travel is all about traveling in a way that supports the communities you're visiting. Below are some tips for how to travel responsibly while spending 4 days in Lisbon!
Learn about Lisbon
Take some time to learn while visiting Lisbon! There are tons of great museums that will give you insight into Portuguese history, culture, traditions and more. Making your trip to Lisbon educational will definitely enrich your experience!
Visit Lisbon in the low or off-season
As with many European cities, Lisbon has experienced a surge in tourism in recent years which has led to some potentially harmful impacts, like overtourism. One way to help reduce your impact while traveling Lisbon, the Algarve, and the rest of Portugal, is to visit in the off or shoulder season. This season runs from late September to early May, and during those months there are generally fewer tourists around.
Walk or use public transport
Lisbon is super walkable! Walking is a great way to reduce your carbon emissions while exploring the city. When you've had enough of a workout (those Lisbon hills catch up to you), consider using public transport to keep your emissions low, rather than taxis and car shares.
Stay local, shop local (skip the Starbucks!)
It's tempting to stay in chain hotels and grab Starbucks in the morning, but it benefits local Portuguese in Lisbon more if you support independently owned hotels, locally owned apartment rentals, and shops. Luckily, it's super easy to find local places to stay as well as locally owned restaurants and shops in Lisbon.
Spend more time in Lisbon
This guide covers 4 days in Lisbon because I know many travelers have limited time that they can spend on vacation. If time allows, I recommend spending longer in the city. This allows for a slower travel approach, and you're able to get to know Lisbon more in depth.
More from Pina Travels on Portugal:
Erin has been traveling for over a decade, both solo, and with her partner. She's now traveled to countries across 6 continents, and has lived in 2 countries abroad. Erin also hosts the travel podcast, Curious Tourism, where she interviews travel industry thought leaders and experts about responsible tourism. Learn more about Erin, and get in touch with her, here.